Where is Allston?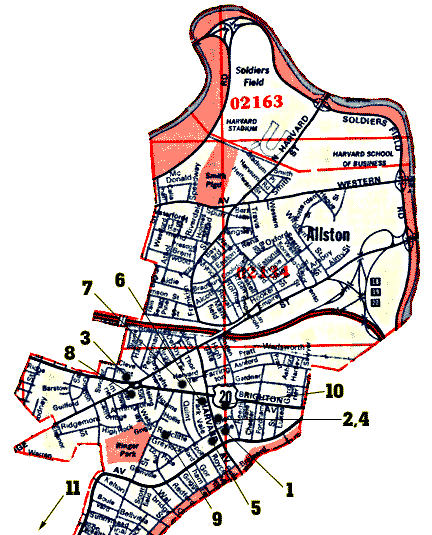 Allston, Massachusetts, a neighborhood of Boston west of downtown, is a melting pot of students, artists, immigrants and Allstonians. Bordered by the Charles River to the north, Brookline to the south, and Brighton (Allston's step-sister) to the west, Allston is a convenient location for many of Boston's musicians. Following Commonwealth Avenue from Kenmore Square, Allston begins just beyond Boston University at Packard's (suicide) Corner and runs west to Warren Avenue. The intersection of Harvard Ave. and Comm. Ave. serves for some as downtown Allston. Other sections of Allston include "Lower Allston"--the area near the River that is separated from the rest of Allston by the Mass. Pike.
Some points of interest in Allston are:
1. Local 186 (deceased)

As Local 186, this was one of the more rocking clubs in Boston for live music. This winter (1995), in a particularly shameless display of obeisance to the almighty dollar, the owners of this club have converted it to a fern bar!

Most ska bands in Boston played here a ton of times between 1993 (when it was renamed Local 186) and the end of 1995. We can only hope that the other clubs in Boston can pick up the slack!

2. The Grecian Yearning

On Harvard Ave., near Local 186, this restaurant serves the hung-over, next day, post-gig, recovering to start all over again crowd. Denizens of this eating establishment include several Allstonians and some Steady Earnest boys as well. Go there some Saturday or Sunday and yell in their ears [especially Jonathan's! -- ed.], they might notice you.

3. The Model Cafe (Union Square)

A local hangout for a lot of The Allstonians. This is where we conduct a lot of business; it is the closest bar to Studio Nun. The Model (mentioned in The Allstonians' song "Allston, MA") where you can get a turkey sandwich and a nice cold glass of beer. Say "hi" to Charlie. Hey they even have Go You! in the CD player!

4. The Lanes

This studio was located in the alley behind The Grecian Yearning; The Allstonians, Steady Earnest, Dig This and Beat Soup have all recorded here. The Lanes suffered damage in an early-spring fire and has since gone the way of the dodo. It will be sorely missed.

5. Marty's Liquors

Thought by many to be Allston's Town Hall, Marty's Liquors is known for good wine and good winos. You can even get a sandwich there, though Tyler once got a bad mushroom sandwich and nearly died at a Maelstrom recording session. Marty's does have the singular distinction of being the only package store we know of that sells James Bowie 40 oz. (these are the creme de la creme of forties IMHO--D-Train).

6. Blanchard's Liquors

Cases of beer available here.

7. The Osco's Parking Lot

Site of the best parties in town during the 1994 World Cup, every time Brazil won a game (which was pretty often). Festivities included live music, impromptu parades and massive traffic jams.

"Ol&eacute, ol&eacute ol&eacute ol&eacute! Brazil! Brazil!"

8. The Jackson Mann School

9. Greylock

Where the parties often end late.

10. Gerlando's

A classy joint.

11. The rest of Allston (?)

No one seems to know where boundaries of "Allston" really are. Technically speaking, it's part of Brighton, which is part of Boston, but the most consistent definition of Allston I've seen is by zip code (02134 and, apparently, 02163).

Unfortunately, it's not that simple. I have two different maps that show a big stretch of 02134 that goes a couple of miles down to Cleveland Circle and the reservoir. But people I've known who've lived in that part of Boston have actually had zip codes and phone exchanges belonging to Brookline, which is not only a different town than Boston, it's in a different county! I've even heard of people who live here dialing 911 and getting the Brookline Police, who told them they couldn't help them because they lived in Boston!

I guess it's just all part of the fun of living in Allston...
Too many cars...
Too much noise...
---
Copyright © 1995 Arthur Cohen & Jonathan Noel